The network infrastructure services such as Domain Name Service, Dynamic Host Configuration Protocol, and IP Address Management, collectively called DDI, are essential in maintaining the applications' integrity, connectivity, and availability. Centralized fault management is necessary to scan these services, detect, analyze and provide a solution to any network issues. Therefore, fault management is an invaluable resource for the network administrators' teams to find and fix the network issues.
Fault Management
TCPWave's Fault Management helps you identify, avoid and resolve the outages that endanger the application performance. An alert notifies the administrators that a key health or performance indicator has exceeded its set threshold. This real-time notification allows the administrators to detect, diagnose, and resolve any associated issues quickly.
Alarm Subscriptions
TCPWave IPAM Alarm Subscriptions allow to get notified about the critical or warning alerts based on the monitoring service category and component (DNS, DHCP, IPAM, Network, etc.) through the following messaging platforms when any of the metrics crosses a threshold.
Email

Google Chat

Microsoft Teams

Pager Duty

Slack

Telegram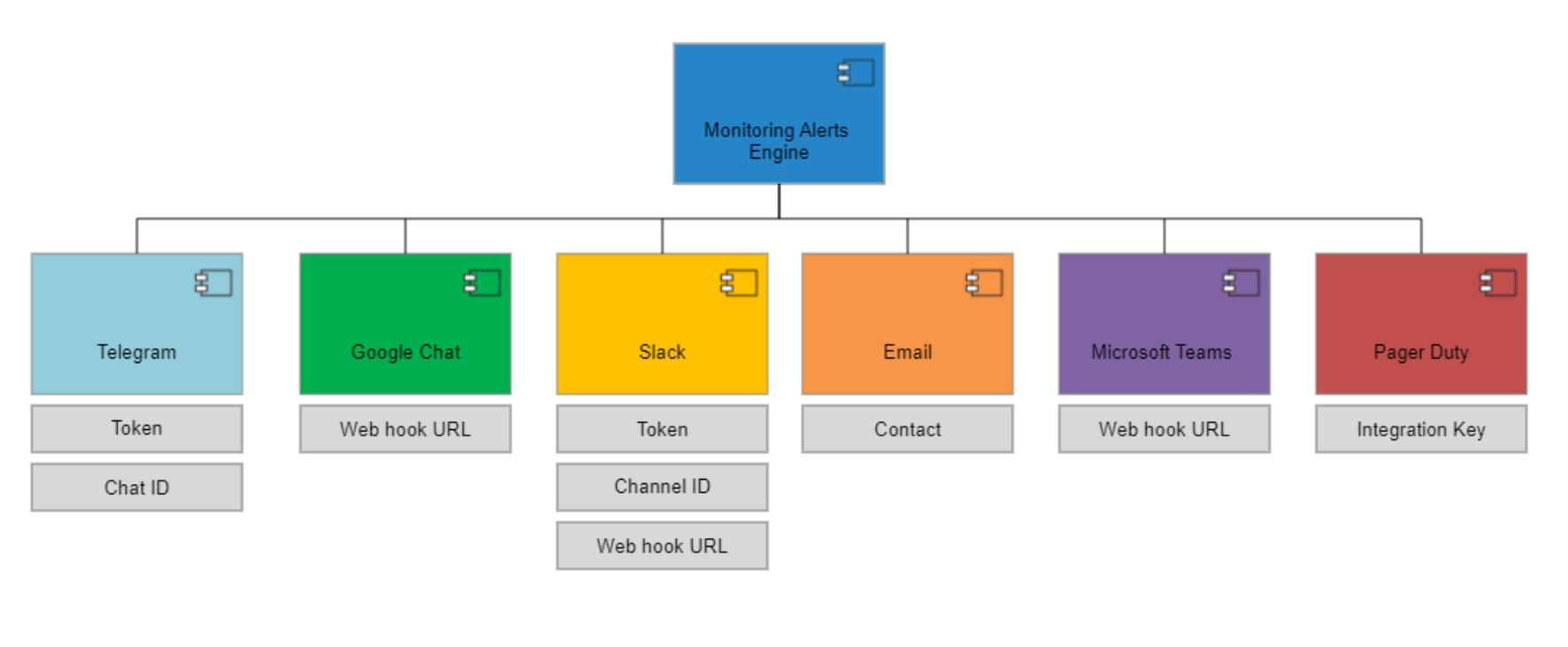 Adding Subscription
The administrators can perform the following through the alarm subscriptions:
Send one notification to multiple subscriptions.

Send multiple notifications to individual subscriptions.
To add a subscription:
Navigate to Infrastructure Management >> Fault Management >>Alarm Subscriptions.

Click Add. The Add Subscription pop-up appears.

Select the Organization, Alarm Criticality, Category, Component, and Threshold from the respective drop-downs.

Based on the selected messaging platform, the system displays different fields as shown.
Platform

Fields

Email

Contact

Google Chat

Subscription Name

Webhook URL

Microsoft Teams

Subscription Name

Webhook URL

Pager Duty

Subscription Name

Webhook URL

Slack

Subscription Name

Token

Channel ID

Webhook URL

Telegram

Subscription Name

Token

Chat ID
Note: Once the network administrators fix the critical/warning alerts that are notified, the system notifies a matching OK alert.
Conclusion
Identify, diagnose and resolve the issues before impacting your business applications with TCPWave's Fault Management platform. For a quick demo, contact the TCPWave Sales Team.