As the network grows, the number of devices connected to it also increases, and it takes more time and effort to keep an up-to-date and accurate inventory of device information. Hence, the switch port inventory is essential in all networking design, implementation, and support areas. Maintaining switch port utilization information is tedious when the task requires manual intervention. One of the significant challenges that network administrators face is tracking switch port that is in use and free. This data is extremely vital to ensure optimal port usage, to plan new network requirements, and for compliance requirements. At times, unused switch ports pose an increased security threat and invite malicious actors to access the network. Hence the switch port monitoring helps the network administrators monitor network efficiency, safeguard sensitive data and ensure reduced risks that could affect the organization's IT infrastructure. This whitepaper provides insights on the Switch Port Utilization Report.
TCPWave – Switch Port Utilization Report
TCPWave's Switch Port Utilization Report provides a focused view of an entire network. It enables the users to view the status of all the switch ports on one single screen; it's easy to maintain at-a-glance management of all the ports in your network. It scans the organization's entire network to identify whether or not a port is available and provides IP address details connected to a specific port. TCPWave supports multi-vendor switch support such as CISCO, Huawei, Juniper, Arista, etc.
The network administrators can export the reports in various formats such as PDF, Excel spreadsheet, or CSV. This report is essential to your organization's network security, capacity planning, and operations.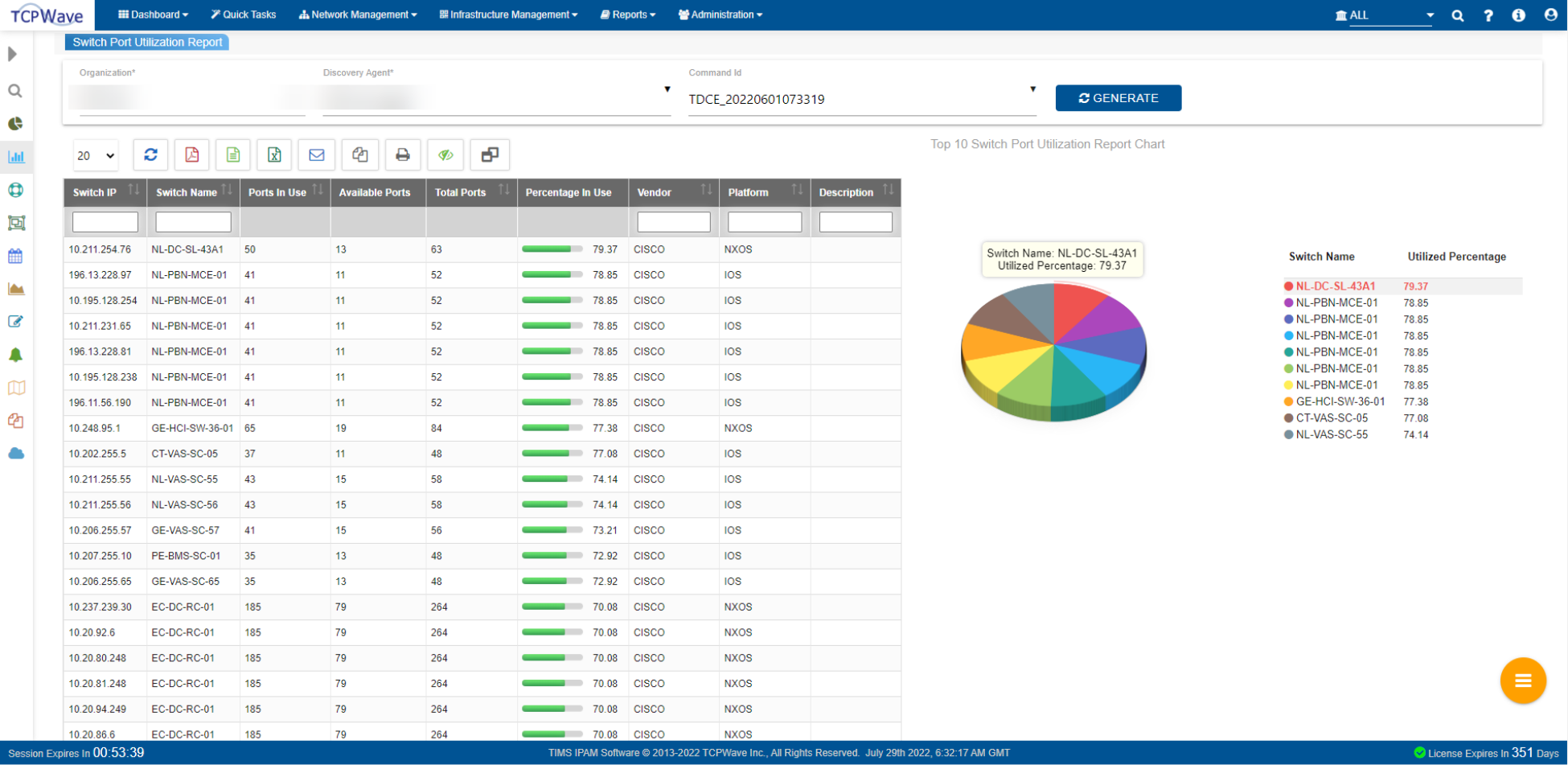 Report Name

Switch Port Utilization Report

Navigation

Reports >> Capacity Planning Reports >> Switch Port Utilization Report.

Description

It provides percentage utilization of switch ports in the IPAM.

Pie Chart Data

The system displays the top 10 switch port utilized data.

The system highlights the switch name and respective utilized percentage on hovering the pie slice.

Grid Data

Switch IP

Switch Port Name

Ports In Use

Available Ports

Total Ports

Percentage In Use

Vendor

Platform

Description
Conclusion
Switch Port monitoring is one of the vital facets of network management. TCPWave's Switch Port Utilization monitoring provides end-to-end visibility into the port utilization that helps network administrators quickly locate a device on their organization's network. The device location is done by searching for a device with its IP address and name to obtain the port details of the connected switch. Administrators can plan to reclaim the unused ports to facilitate intelligent capacity planning and troubleshoot to locate a problematic device on the network infrastructure. This information improves organizations' network-related performance and optimizes port usage. It ensures enhanced security and reduced risks associated with unused ports, safeguarding your organization's entire IT infrastructure, and is integral for meeting compliance needs. For a quick demo on TCPWave's Reporting Framework, contact the TCPWave Sales Team.